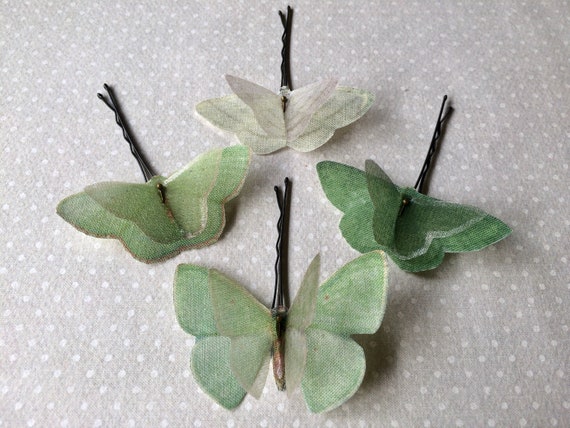 40.00 EUR
Lovely hand-made bobby pins with white to green shades butterflies.
I choose butterfly images from real pictures and vintage illustrations. Then I print them on high quality cotton and silk organza, hand-cut one by one and seal edges to prevent fabric fraying.
I love to create these accessories!
Butterflies bobby pins are delicate. You can wear them on your hair every day but don't stretch butterflies, don't wash (also if they are waterproof).
And please don't spray perfume or hair spray over them.
These bobby pins are made using 2 butterflies: one in cotton and one in silk organza.
They measure about 6,5 cm.
Black bobby pin is long 5 cm.
These butterflies will fly to you with registered tracked airmail by Poste Italiane shipment service.
Please read my policies before you buy.
Please note that I'm not responsible for lost, stolen or damaged items, when they leave my hands.
Please feel free to email me should you have questions, need further descriptions or pictures.