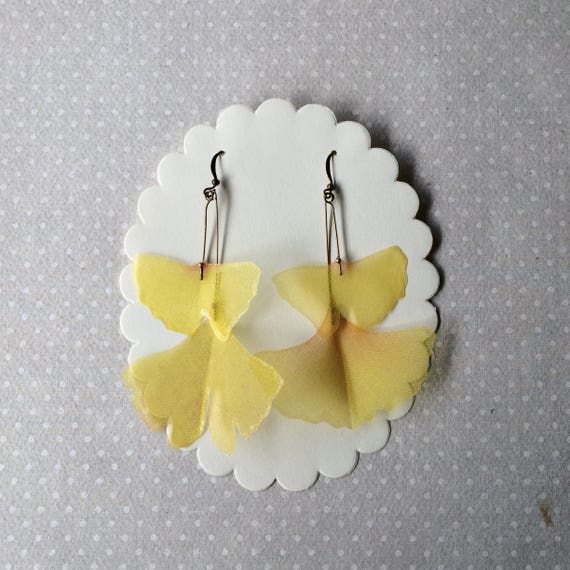 27.00 EUR
A new creation dedicated to the beauty of Ginkgo Biloba or Ginko Biloba tree!
Real leaves, as the silk organza leaves of these earrings, fly in the wind with all their magic!
I choose images one by one from real pictures and vintage illustrations. Then I print them on high quality silk organza, hand-cut and seal edges to prevent fabric fraying, creating every piece completely by hand.
I love to create these unique pieces of jewelry!
Please pay attention when you wear the earrings, they're delicate. Don't stretch the leaves.
Leaves can't be washed but they are waterproof. However don't spray perfume over them.
There are 4 leaves on these earrings and they're long about 8 cm.
Antique bronze earrings. Nickel free.
Here you can see the matching necklace https://www.etsy.com/listing/500593366/ginkgo-tree-handmade-silk-organza-yellow
and matching hair pins https://www.etsy.com/listing/550222070/handmade-ginkgo-biloba-leaves-hair-bobby
The earrings will fly to you with registered tracked airmail by Poste Italiane shipment service.
Please read my policies before you buy.
Please note that I'm not responsible for lost, stolen or damaged items, when they leave my hands.
Please feel free to email me should you have questions, need further descriptions or pictures.